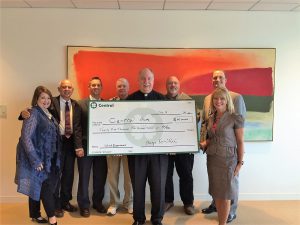 Msgr. Kurwicki, Jim Vignola and Clarence Denkler presented the final check to Central Bank on the 2008 two million dollar loan on the School addition. This brings that 5.6 million dollar campaign to a very successful conclusion thanks to your prayers, support and gifts. Those debt reduction envelopes work!
---
Carl will be taking his 1st Vows on Saturday, August 6, 2016.  He is presently in a Chicago suburb, Techny, IL.  After his vows he will head into the city of Chicago for two years of Advanced Theology.
Carl sends his love and prayers to everyone at the "Great Cathedral" and thanks each of you for your thoughts and prayers.
See photos of Carl and his fellow seminarians.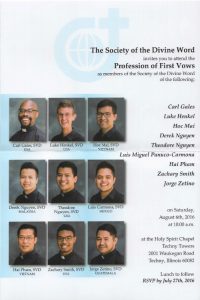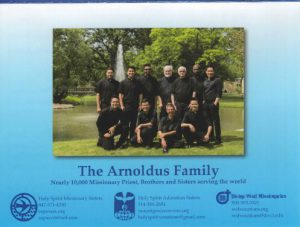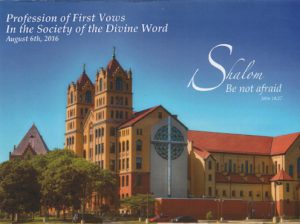 ---
Fr. Faraway
07/16/2016
The Meystrik Family recently took Fr. Faraway to Conception Abbey and to visit the Carmelites staying in Clyde, MO with the Benedictine Sisters of Perpetual Adoration.  Check out the parish website for pictures from both the Abbey Basilica and the monastery at Clyde (including a relic of St. Francis of Assisi from their relic chapel).  Don't forget to send in your pictures with Fr. Faraway and make sure he gets to Mass each weekend!
06/28/2016
The Delk Family and Fr. Faraway continued their travels though historic Charleston, South Carolina – including a stop at Blessed Sacrament Catholic Church.  Check out the parish website for pictures.  Don't forget to take Fr. Faraway with you this Summer and make sure he gets to Mass each weekend!
06/20/2016
This week Fr. Faraway traveled to historic Charleston, South Carolina with the Delk Family.  Although Fr. Faraway missed his flight with Mrs. Jennie Busby – she made sure to take pictures for him from her trip to Southeast Asia.
06/12/2016
This week's Fr. Faraway Update highlights some Catholic Churches in Tennessee where parishioners went while on vacation.  Kenadi Harrison introduced Fr. Faraway to a priest in Gatlinburg and a couple of beautiful stops the Delk family made with Fr. Faraway in Nashville.   Keep going to Mass and keep the pictures coming!
---
The stjosephb@catholicweb.com email address is no longer active. Please use the following to contact the Cathedral Parish Office by email.
---