My goal for 2016 was to lose 10 pounds. Only 15 to go.
Ate salad for dinner. Mostly croutons and tomatoes. Really just one big round crouton covered with tomato sauce… and cheese. FINE, it was a pizza. I ate a pizza.
How to prepare Tofu:

Throw it in the trash.
Grill some meat.

I just did a week's worth of cardio after walking into a spider web.
I don't mean to brag, but I finished my 14-day diet food in 3 hours and 20 minutes.
A recent study has found women who carry a little extra weight live longer than men who mention it.
Kids today don't know how easy they have it. When I was young, I had to walk 9 feet through shag carpet to change the TV channel.
Senility has been a smooth transition for me.
Remember back when we were kids and every time it was below zero outside they closed school? Me neither.
I may not be that funny or athletic or good looking or smart or talented… I forgot where I was going with this.
I love being over 70. I learn something new every day and forget 5 others.
A thief broke into my house last night. He started searching for money so I woke up and searched with him.
I think I'll just put and "Out of Order" sticker on my forehead and call it a day.
November 6, 2016 was the end of Daylight Savings Time. Hope you didn't forget to set your bathroom scale back 10 pounds on Saturday night!
Just remember, once you're over the hill, you begin to pick up speed!
Have a Safe and Happy New Year!
---
---
---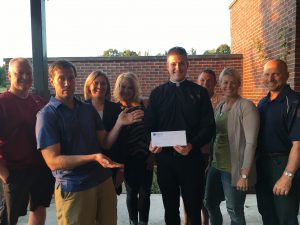 The St. Joseph Cathedral Golf Tournament raised $17,500. The proceeds were presented to St. Joseph Cathedral Parish, St. Joseph Cathedral School, and St. Joseph Cathedral Athletic Committee. Thank you for all of your hard work in making this a successful Parish event!
---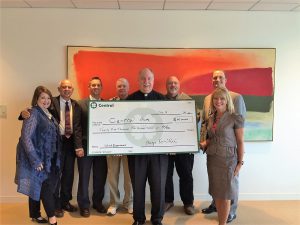 Msgr. Kurwicki, Jim Vignola and Clarence Denkler presented the final check to Central Bank on the 2008 two million dollar loan on the School addition. This brings that 5.6 million dollar campaign to a very successful conclusion thanks to your prayers, support and gifts. Those debt reduction envelopes work!
---
Carl will be taking his 1st Vows on Saturday, August 6, 2016.  He is presently in a Chicago suburb, Techny, IL.  After his vows he will head into the city of Chicago for two years of Advanced Theology.
Carl sends his love and prayers to everyone at the "Great Cathedral" and thanks each of you for your thoughts and prayers.
See photos of Carl and his fellow seminarians.
---
Fr. Faraway
08/14/2016
Olivia and Addison Monnig's brother went to the Baltic countries and they insisted he take Fr. Faraway with him.  Check out the parish webpage for some great pictures of several Catholic churches in Lithuania, Latvia, and Estonia.  Thanks to the Monnig girls for making sure Fr. Faraway went on that fantastic trip – it looks like he had a great time visiting these beautiful churches.
08/07/2016
The Barnes recently took Fr. Faraway to Ireland – so make sure to check the parish webpage for pictures!  Remember to take Fr. Faraway with you on your travels and keep the pictures coming – send them to meystrik@centurylink.net.
08/01/2016
Two Cathedral Parish families took Fr. Faraway with them on recent trips.  Last weekend, Fr. Faraway visited Springfield, MO with Daniel (2nd grade) and Nick (preschool) Morris.  Fr. Faraway attended Mass at Immaculate Conception parish with Daniel and Nick – as well as their aunt, uncle, and cousin.  The Brunnert Family recently took Fr. Faraway to Boston and among the historic sites they visited was the Old North Church.  This was the church where the Patriots hung lanterns – one if by land, two if by sea.  Remember to take Fr. Faraway with you on your travels and keep the pictures coming – send them to meystrik@centurylink.net.
07/16/2016
The Meystrik Family recently took Fr. Faraway to Conception Abbey and to visit the Carmelites staying in Clyde, MO with the Benedictine Sisters of Perpetual Adoration.  Check out the parish website for pictures from both the Abbey Basilica and the monastery at Clyde (including a relic of St. Francis of Assisi from their relic chapel).  Don't forget to send in your pictures with Fr. Faraway and make sure he gets to Mass each weekend!
06/28/2016
The Delk Family and Fr. Faraway continued their travels though historic Charleston, South Carolina – including a stop at Blessed Sacrament Catholic Church.  Check out the parish website for pictures.  Don't forget to take Fr. Faraway with you this Summer and make sure he gets to Mass each weekend!
06/20/2016
This week Fr. Faraway traveled to historic Charleston, South Carolina with the Delk Family.  Although Fr. Faraway missed his flight with Mrs. Jennie Busby – she made sure to take pictures for him from her trip to Southeast Asia.
06/12/2016
This week's Fr. Faraway Update highlights some Catholic Churches in Tennessee where parishioners went while on vacation.  Kenadi Harrison introduced Fr. Faraway to a priest in Gatlinburg and a couple of beautiful stops the Delk family made with Fr. Faraway in Nashville.   Keep going to Mass and keep the pictures coming!
---
The stjosephb@catholicweb.com email address is no longer active. Please use the following to contact the Cathedral Parish Office by email.
---