We will observe this special date on August 20, 2017. Bishop Marling and Msgr. Poelker plus a large group of the faithful were present for this happy event.
Cathedral Groundbreaking – Compacted
---
Fr. Wiederholt celebrated his last daily Mass in the Cathedral on June 30. He  indicated that due to his continued serious struggle with his eyesight he is going to discontinue driving. This means he will no longer be able to be a celebrant at our daily Masses. The entire Cathedral parish wishes to sincerely thank him for his faithful service and good example as a senior Priest. It is our prayer that God will continue to bless him and we will keep him in our prayers.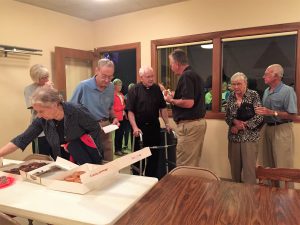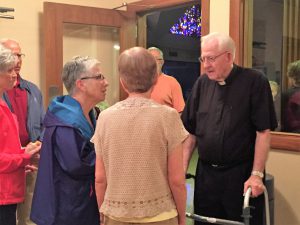 ---
Fr. Pat Shortt, pastor of Our Lady of the Snows parish in Mary's Home, has taken a turn for the worse.  He has been struggling with an infection that has caused him some problems. He has undergone surgery, which was successful and is on a ventilator to help with breathing.  Please keep him in your prayers, especially that they might be able to find a way to deal with this infection and put him back on the road to recovery.
---
Obituary for Martha Agnes (Kempker) Schulte | Phillips Funeral Home
Martha Agnes Schulte, 98, of Henley, Missouri passed away Tuesday, June 6, 2017 at Summit Villa in Holts Summit, Missouri.  She was born February 13, 1919 in Miller County, Missouri to the late Henry and Sophia (Lepper) Kempker.  On October 10, 1940 in Mary's Home, Missouri she united in marriage to Fred H. Schulte who preceded her in death in 2010.
Survivors,
Daughters, Marilyn Forck (Jerome) of Jefferson City Mo., Margaret Oligschlaeger (Paul) of Jefferson City Mo.
Sons, Ron Schulte (Flo) Henley Mo., Gary Schulte (Pam) Henley Mo.
Son in Law, Larry Luetkemeyer of Maryland Heights Mo.
Fifteen Grandchildren, Thirty-Four Great Grandchildren & One Great Great Grandchild
Sister Alma Loethen of Mary's Home Mo.
Preceded in death by a daughter Marlene Luetkemeyer, a great granddaughter & great grandson, 3 brothers, Adolph Kempker, Fred Kempker & Matt Kempker. 4 sisters, Elizabeth Luckenhoff, Maggie Doerhoff, Hilda Doerhoff & Annie Bax.
Martha was a lifelong member of Our Lady of the Snows Catholic Church of Mary's Home, member of the Altar Sodality, and enjoyed quilting and bowling.
Visitation will be on Friday, June 9, 2017 from 4:00 P.M. – 8:00 P.M. at Our Lady of the Snows Catholic Church with a prayer service at 4:00 P.M.  Funeral Mass will be Saturday June 10, 2017 at 10:00 A.M. also at the Church.  Reverend Greg Oligschlaeger officiating.  Interment will follow at Our Lady of the Snows Cemetery.
Memorials in her name are suggested to Our Lady of the Snows Parish.
Arrangements are under the direction and care of Phillips Funeral Home of Eldon, MO.
---
Charitable donations may be made to:
Our Lady of the Snows Catholic Church
274 Hwy H, Eugene MO 65032
---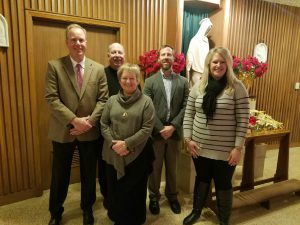 DISTINGUISHED GRADUATE: Edith Vogel graduated from St. Joseph Cathedral in 1965, from Helias High School in 1969 and from the Jefferson City Public School of Practical Nursing in 1972. She has been active in civic life, serving for eight years on the City Council, representing Ward 2 (1999-2007) and 20 years on a fund allocation committee for the United Way. As a member of St. Joseph Cathedral, she has served in various roles, including the Parish Council, both as a member and as president, the schola and as a lector. Prior to joining St. Joseph Cathedral, she actively participated as a member at St. Peter parish, including as Parish Council president. Ms. Vogel says that she learned an important lesson while attending Catholic schools: "Don't lie, don't cheat and don't steal, and you'll turn out okay!"
OUTSTANDING VOLUNTEER: Kevin Vollet graduated in 1981 from Assumption Catholic Grade School in South St. Louis County; 1985 from Bishop DuBourg High School in South St. Louis City; and 1993 from Southern Illinois University at Edwardsville, with a BS degree in Civil Engineering. He is currently working as a Civil Computer Aided Design Support at MoDOT. Of the importance of volunteering, Mr. Vollet says, "Volunteering allows me to be closer to my kids by sharing in their experiences and teaches them to think of others with their own skills and gifts. It is a great way to give back to the Catholic Church that I feel has given so much to me and my family." Our Outstanding Volunteer has been active in volunteering in various organizations and activities.
---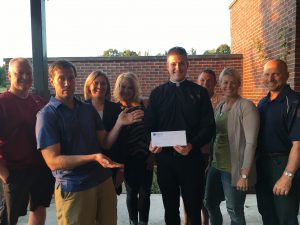 The St. Joseph Cathedral Golf Tournament raised $17,500. The proceeds were presented to St. Joseph Cathedral Parish, St. Joseph Cathedral School, and St. Joseph Cathedral Athletic Committee. Thank you for all of your hard work in making this a successful Parish event!
---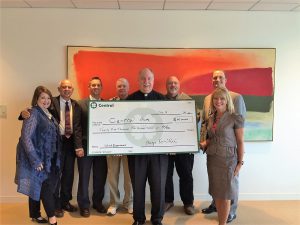 Msgr. Kurwicki, Jim Vignola and Clarence Denkler presented the final check to Central Bank on the 2008 two million dollar loan on the School addition. This brings that 5.6 million dollar campaign to a very successful conclusion thanks to your prayers, support and gifts. Those debt reduction envelopes work!
---
Fr. Faraway
08/13/2017
Fr. Faraway has had a very busy Summer again!  He is very thankful to have had so many great adventures and to have seen so many beautiful Catholic Churches all over the world.  This week check out the parish webpage to see were Karyn, Sam and Korbyn Liebler took Fr. Faraway and also to see where John Rush attended Mass this Summer.  Even though school has started – keep the pictures coming!
08/01/2017
Deacon John and Carol Schwartze took Fr. Faraway to Germany in June.  Check out the parish website to see a picture of them outside St. Peter in Cologne.  St. Peter attracts around 20,000 people each day and is Germany's most visited landmark.  Construction on this historic Cathedral began in 1248 and it even withstood Allied bombing during World War II.  Thanks Deacon John and Carol for helping us learn about this beautiful and historic Cathedral.
07/11/2017
Fr. Faraway and Colette Tellman walked the Camino de Santiago de Compostella in Spain in early June.  Check out the parish webpage for pictures of Fr. Faraway and Colette after they made the 75 mile walk.  Thank you Colette for taking Fr. Faraway on this amazing pilgrimage and sharing your picture of the Cathedral of Santiago with us.
07/05/2017
Fr. Faraway has been a "Rambling Reverend" again this summer.  He recently went to Immaculate Conception Church in Springfield, MO with the Jamie and Kristen Morris Family – including Daniel (3rd grade), Nick (kindergarten), and Owen (preschool). The Morris boys were in Springfield for the baptism of their cousin.   Fr. Faraway also visited the Cathedral of the Holy Trinity in New Ulm, Minnesota on Father's Day.  Thanks to Scott and Tina Sellner making room for him on their trip North.  Thanks for remembering to take Fr. Faraway along with you on your travels.
06/11/2017
Thanks to Deacon Al and Dena Brand – Fr. Faraway got his summer vacation off to a great start.  They took Fr. Faraway on a pilgrimage to Fatima, Portugal.  After Fr. Faraway had a few days to rest – the Steve and Theresa Meystrik Family took him to a wedding in Kansas and the following day they visited another Catholic Church that Fr. Faraway was told to visit.  Check out the parish webpage for some great pictures from both of these trips.  Remember to take Fr. Faraway along with you and be sure to get to Mass while on vacation.  Look for some of the many beautiful Catholic Churches and shrines along the way.  Send pictures to meystrik@centurylink.net or text them to Steve Meystrik at (573) 353-8652.
Fr. Faraway – June 11 2017 (2)
---
The stjosephb@catholicweb.com email address is no longer active. Please use the following to contact the Cathedral Parish Office by email.
---