2019 Events
Every Wednesday, 7:00 p.m. – Holy Hour in the Cathedral Adoration Chapel.
Thursday, March 7, 8:00 p.m.  – Join us in your jammies for our "Small Group Kick Off" event on Facebook! We'll go "live" to talk about the theology of Small Groups, give a few practical tips + info, pray together and take questions!
Even if you're not in a small group this semester, you're invited to listen in on what we're doing!

Led by: Aaron & Lauren Hildreth
Info: Meeting Monday at 6:00pm at Hildreth's house (off Sue drive)
Topic: No Greater Love: A Biblical Walk Through Christ's Passion
Additional Info: Children are welcome, babysitters provided. We'll plan suppers together, potluck style!
Led by: Austen Dudenhoffer & Jonathan Pund
Info: Meeting Tuesday at 6:30pm. Location TBD
Led by: Megan Sprenger & Emily Winkleman
Info: Meeting Monday 6:00-7:30pm at Megan's house (near the Cathedral)
Topic: Sunday readings
Led by: Jessica Cook & Ashley Wiskirchen
Info: Meeting weekdays, during the day. We'll find the "best fit" together. Rotating meeting between the Cook and Wiskirchen homes, and other members if willing.
Topic: Lenten devotional through Blessed Is She
Additional Info: We may choose to purchase the BIS journals (and help cover the cost) or may use the free daily devotionals to find time in the Word each day, and come together to discuss over food and playing kiddos. We may also try to attend an Adoration hour together 1/month or more often if it works out. 🙂
Led by: Ashley Bramer & Annie Crider
Info: Meeting Tuesday at 8:00pm at Ashley's apartment (McKay Park). Enjoy wine and snacks together!
Topic: FOCUS Crux study
Additional info: "The purpose of The Crux is to invite participants to make Jesus Christ the venter of their lives. The title comes from the Latin work cruxwhich means "cross." It follows the example of St. Paul, "to preach Christ crucified" so that other may come to know the love that God has for us. The word crux today also refers to a place of decision or turning point. We want this study to be an experience where the participants can gaze upon the cross of Jesus Christ and come to a decision about Him in their own lives"
May 1, 7:00 p.m. REBOOT! LIVE! Chris Stefanick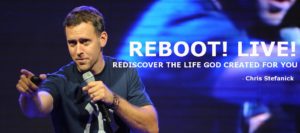 REBOOT_Jefferson City_MO_ (8.5×11 Flyer) (004)