EDGE is a Jr. High program focused on the Eucharist. Our mission is to spiritually transform the Jr. High youth, incorporating the Catholic Church's vision of social justice and peace into their lives through:
Families in-Need program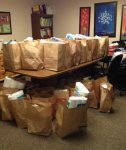 The Cathedral Youth Board along with the EDGE program have started a Families in-Need program to help the families at the Jefferson City Day Care. We as a Parish /School are having monthly food collections! Each month there are 5 items we are collecting and then delivering to the Day Care on the EDGE day. We are assisting 65 families who are living at or below the federal government poverty level!
Look for more information in the parish bulletin!
Monthly Edge Programs:
Here the Jr. High youth begin to experience the fullness of the Catholic faith and are taught how to be reverent in prayer, how to develop a deeper relationship with Jesus Christ and how to put their faith into action.
Edge Retreats:
These weekends, including Luke 18 (7th grade) and Timothy 4 (8th grade), are opportunities to get away from the dramas of ordinary life and spend a few days with God and their Catholic community of friends at St. Joseph Cathedral.
Edge Mass:
At Cathedral Masses, Jr. High students are able to share their time and talents in service to the Church through lectoring, ushering and greeting, leading music, as well as other roles in the liturgy. Edge Masses help to adolescents are a vital and visual presence within our parish community.
See photos!
2017-2018 EDGE Parent Letter – PDF