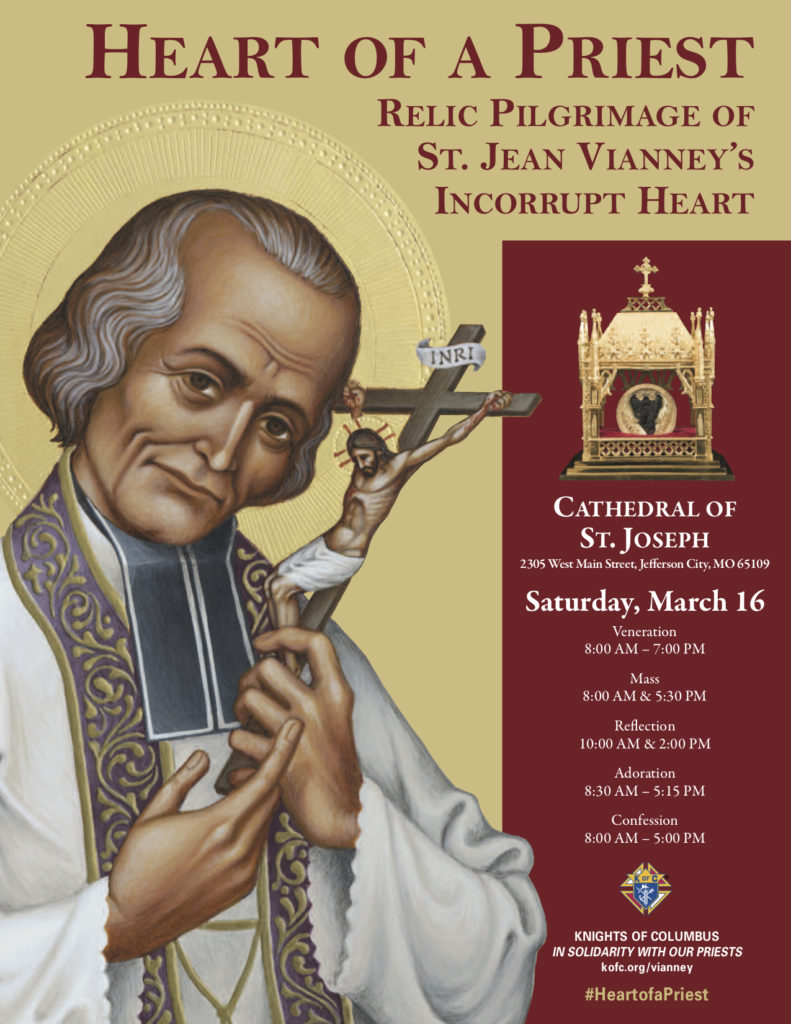 The Office of Vocations is pleased to announce, with the approval and invitation of Bishop W. Shawn McKnight, that on Saturday, March 16, 2019, the major relic of St. Jean Vianney's incorrupt heart will make a visit to the Cathedral of St. Joseph in Jefferson City, Missouri.
"The Shrine of Ars, France, has entrusted to the Knights of Columbus the major relic of St. Jean Vianney's incorrupt heart for a national tour in the United States, from November 2018 through early June 2019. The Knights of Columbus welcomes this special opportunity to offer for veneration a major relic of the patron of parish priests, whose holiness and integrity is a model for clergy and laity alike." Please visit www.kofc.org/vianney for more details from the Knights of Columbus.
Please join the Office of Vocations in this wonderful opportunity to venerate the major relic of St. Jean Vianney, as well as make this a day of prayer for an increase of Vocations to the Diocesan Priesthood for our Diocese. The day will begin with Holy Mass, Confessions will be available all day, a couple reflections/talks will be given, and Adoration of the Blessed Sacrament will be available. The day will conclude with the regularly scheduled Parish Sunday Vigil Mass at 5:30 PM. See below (or flyer above) for more details.
Schedule of Events for Saturday, March 16, 2019:
Cathedral of St. Joseph, 2305 West Main Street, Jefferson City, Missouri 65109
8:00 AM to 7:00 PM — Veneration of the Relic
8:00 AM — Holy Mass
8:00 AM to 5:00 PM — Confessions available (this will serve as the Parish's Lenten Penance Service)
8:30 AM to 5:15 PM — Adoration of the Blessed Sacrament
10:00 AM — Reflection
2:00 PM — Reflection
3:00 PM — Recitation of Divine Mercy Chaplet
5:30 PM — Holy Mass (Sunday Vigil)
###

If you would like more information or have any questions, please call the Office of Vocations at 573.635.9127 ext. 211 or email followme@diojeffcity.org.
February 2019 Issue of Knights of Columbus "Columbia" Magazine featuring St. Jean Vianney
About St. John Vianney
St. John Vianney popularly known as the Curé of Ars, is revered as a model of priestly generosity, purity and prayerfulness. Born in France in 1786, he grew up in a time of open hostility to the Church in the wake of the French Revolution when the faith was attacked, churches destroyed, and the clergy martyred. Assigned to lead the parish in the small farming community of Ars. Father Vianney excelled at both prayer and work.
He was famous for hearing confessions for up to 18 hours a day as people from across Europe and beyond came to see him. His notoriety throughout the Catholic world grew even after his death in 1859 and he continues to inspire a quest for holiness by both priests and the laity. His incorrupt heart — a major relic — normally resides at the shrine named for him in Ars.
About Relics
In Catholic tradition, a relic is a physical object associated with a saint that may be offered to the faithful for veneration. Neither the relic nor the saint are to be worshipped, but are rather venerated as holy objects in recognition of the fact that God has worked through the saint.  A major or first-class relic was part of the saint's body as opposed to something that the saint touched or wore. The term "incorrupt" refers to a human body that has avoided the normal process of decomposition after death. It is a sign — but not a proof — of the person's holiness, and is sometimes seen in Catholic saints and blesseds.